Biker's memories
Version française (clic)
I spent eight years teaching sciences in junior highshools of the north-west suburbs of Paris. I then went back to the University and got a grant to prepare a PhD. My thesis work in neurophysiology consisted in recording the activity of nerve fibers in the presence of penicillin (1) (2). The recording sessions (the "manips" as we say in the french research language) lasted until the experimenter collapsed, which happened usually around 1 or 2 o'clock in the night.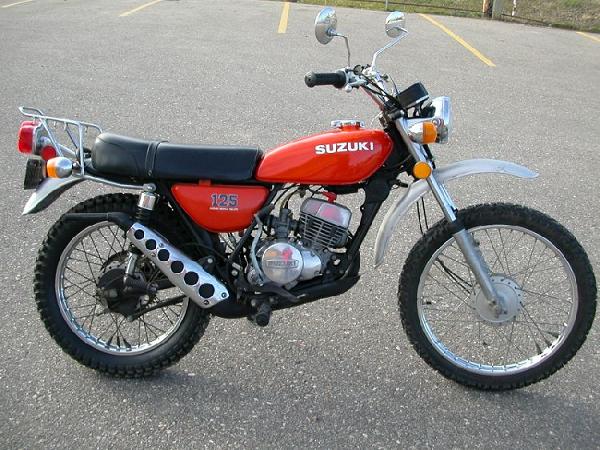 I was living in the north-west of the Paris region, at a distance of twenty-five kilometers from the lab. Public transportations schedules were unfortunaltely not compatible with my working hours. So I had to sleep in the lab. Alternatively I would squat the closer home of one of my likes Suzanne and Patrick, or the home of one of my seniors in research Michel and René. I wrote "seniors in research" because I was a "late" student and I was about their age. In march 1977 I was determined to put an end at my nomadic way of living. I used a part of my grant to buy a small bike Suzuki 125 TS. According to the official french terminology, it was a "vélomoteur" (moped) which I may drive with my car driver's license.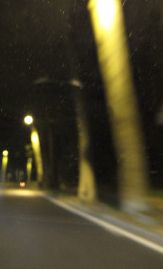 I drove usually through Boulogne wood, at the west edge of Paris, to go back home. Generally I would see nobody there, at least out of the areas crowded by prostitutes. But that precise night, a biker was standing under a street light and was studying a map. A big backpack revealed that he was an adventurer. Behaving as a good biker, I stopped to inquire about his problem. A face, which I recognized as asiatic in spite of the shadow of the helmet, turned towards me. I tried : "May I help you ?". The biker answered by showing a paper with an address. From his explanations I understood that the address was that of bikers that he met some time before. They had proposed to accomodate him. The map confirmed that I knew the place which was at the edge of Argenteuil and Sannois, near the mill, not far from my home. The odds are in our favour. "Follow me !"
A closed door. Indeed, the address corresponded to a small house and a garden behind a wooden gate. We pressed the door bell button, but either it was not working or the house was empty. Anyhow, nobody shown up. It is true that it was two o'clock in the night... There was a short time of uncertainty as to what to do. After a self consultation, I finally said "Don't worry ! Please come home". By then we rode our bikes again going to my parent's house which I was sharing at the time with my sister, her husband and their one year old boy. The night was short. Kotaro told me that he came from Japan with his bike, a Suzuki 250 TS, in a round the world trip. In the Middle-East, his bike began to have some problems. Since by chance we were both of us suzukists, I suggested to pay a visit to my bike reseller to have his repared. So we did. If I remember well, Suzuki-France took over the repair. That deserves respect !
While the bike was being repaired, Kotaro spent a week - or may be two - in my house. I was busy with my thesis work and I probably did not gave enough of my time to Kotaro. However we had some good time in the evening when Kotaro sang for me some japanese songs accompanying himself on the guitar. I recorded a session with my tape recorder Uher 4200 Report. Unfortunately, this recorder is now worn out and I am thus unable to replay the tape. Looking for tangible traces, I reviewed all my photos but unsuccessfully. Im unsure if I made any. When ready to leave, Kotaro gave me a small green Yves-Saint-Laurent towell as a gift. I still have it (no, it's not simply a relic, I use it) ...

Thirty six years, it's a long time, but I still reminded Kotaro's family name and thus could find a Facebook profile which seemed to correspond to him. By chance this one Kotaro had recently shared a photo where he is on a bike in Sweden and a comment said that this photo was taken thirty six years ago. This confirmed to me that I indeed found "my" Kotaro. Since then, Kotaro accepted my invitation to become Facebook friends. Isn't this a great reunion ?!
To be continued in this other post : "Biker's memories [2]" (click on the following image)

Nineteen-hundred-seventy-seven, a french point of view upon a momentous year during which the Centre Pompidou opens in Paris-Beaubourg, municipal elections bring Jacques Chirac at the mayorship in Paris, more elections bring back Spain in the democratic camp and a certain Bokassa have himself proclaimed emperor without any election, Sacco et Vanzetti are rehabilited, the supersonic plane Concorde may finally land in New-York, the rocket "Ariane" launches the first geostationary satellite Météosat, by the Bill 101 Quebec governement impose french language over its territory, France wins the Five Nations Championship (rugby), the poet Jacques Prévert have the bad idea to die, in that followed by Elvis Presley, René Goscinny and Charles Chaplin...
(1) Summary of my work on ectopic action potentials on nerve fibers treated with penicillin.
(2) Jean Talairach, neurosurgeon, one of the pioneers of stereotactic neurosurgery, relates his memories(to which I belong) and tells a few words about works on penicillin-induced epileptogenic foci.
No feedback yet